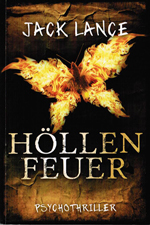 My suspense thriller PYROPHOBIA is now officially a bestseller in Germany (there the book is titled HOLLENFEUER). After the first release by Bastei-Lubbe and subsequent subreleases by Bertelsmann and Weltbild, PYROPHOBIA saw yet another subrelease last week: this one by Edition Nova, with a first print run of 30.000 copies.
And there's even more in the pipeline, I dare to predict after attending the Frankfurt Book Fair last week… Here's Edition Nova's cover.
Mijn suspense thriller Vuurgeest is een bestseller in Duitsland (daar heet het boek HOLLENFEUER). Vorige week verscheen mijn 'vuurbeest' in sublicentie al bij de vierde Duitse uitgever: Edition Nova, met een eerste oplage van 30.000. Zo ziet deze editie eruit. En er zit nog meer in de pijplijn… dat durf ik te voorspellen nadat ik de Frankfurt Book Fair bezocht afgelopen week.
Pyrophobia BESTSELLER in Germany