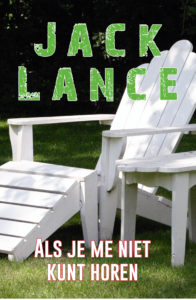 A new Free E-pub to read in Dutch, with the story Als je me niet kunt horen.
Siska is gardening on her parents farm, that is very remote. She listens to music on her IPod, and does not hear a thing. Behind her back, her boyfriend is  reading a book while situated on a deckchair. When she turns around, she sees that the throat of her boyfriend is cut. As of that moment, Ciska is alone with a body. And a psychopathic killer, who hunts her down.
Ciska is aan het tuinieren op de afgelegen boerderij van haar ouders. Ze luistert naar een muziekje op haar IPod en hoort verder niets. Achter haar rug leest haar vriend op de ligstoel een boek. Als ze zich omkeert ziet ze dat de keel van haar vriend is doorgesneden. Vanaf dat moment is Ciska alleen met een lijk. En met een psychopatische moordenaar, die haar opjaagt.
Free E-pub Als je me niet kunt horen (Dutch only)