Jack was interviewed on several occasions. Here are some interviews and photo's from Indonesia, Poland and Bulgaria. All Dutch interviews and articles you can find on the Jack Lance Community website.
Jack in Indonesia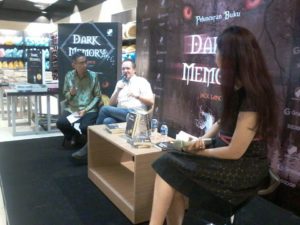 After the succesful publication of his first novel Pyrophobia, Jack was in Jakarta in december 2016, for the presentation of his novel Dark Memory.
He was thoroughly enjoying among others a wonderful presentation in Jakarta, at Gramedia Central Park, of the Indonesian edition of Dark Memory, as well as the second printrun of the Indonesian Pyrophobia [Vuurgeest], published simultaneously. Read More
Jack on Teleexpress

Jack was in Warsaw, at the presentation of Plomien Strachu [Pyrophobia]. One of the highlights was his performance on the TV-programm Tele Express. This is the biggest and most populair newsshow in Poland, viewed by milions every day. Read More
Jack in Bulgaria

July 2011, Jack had an interview with Sabina Theo from Delakort Publisher about himself and Pyrophobia.
The bestselling author Jack Lance. I hook up the reader at the start – make big bang at the end!
An interview by Sabina Theo Read More