Only Sharlene Thier, a young stewardess serving on routine Flight 582, crossing the Pacific Ocean from Los Angeles to Sydney, understands the inexplicable and terrifying events that happen on board.
The Boeing 747-400 seems to have entered strange airways, inhabited by something malicious. Sharlene is suffering from nyctophobia – not a fear of the dark, but of things that may hide in the dark. This night her anxieties become a reality.
Booktrailer
Excerpt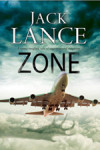 At the first indications of heavy turbulence Jim, in the cockpit, switched on the passenger seatbelt sign. He had returned to his seat ninety minutes earlier. After takeoff, Ben had taken over the controls from him for four hours. Now that the relief pilot was asleep on a makeshift bunk in the back of the cockpit, Jim had joined Greg for the last stretch of the flight.
"I didn't see that one coming," Jim said. "Nothing that strong, at least."
"Me, neither," Greg concurred.
International editions

Dutch
Luitingh-Sijthoff
English languages
Severn House
Bulgarian
Delakort
Hebrew
2020 (to come)
Indonesian
Gramedia