Welkom | Welcome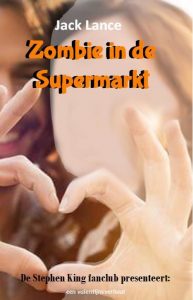 Speciaal voor Nederlandstalige lezers is vanaf Valentijnsdag het verhaal Zombie in de Supermarkt als GRATIS download beschikbaar.
De Stephen King Fanclub heeft de primeur van dit verhaal, en alle Kings Things lezers krijgen de link naar Zombie in de Supermarkt op 14 februari a.s. toegestuurd. Maar uiteraard mag jij als website bezoeker  dit verhaal natuurlijk ook lezen: download het hier: helemaal gratis.
En als je een fan bent van Jack Lance is er nog meer leuk nieuws: er komt ook een hele kleine oplage van dit verhaal in een kleine pocket (72 pagina's) uit. Bestel de pocket hier, voor 7,50 (inclusief verzendkosten), want die wil je natuurlijk niet missen in je verzameling!
Wordt verwacht later in 2021: een nieuwe thriller van Jack Lance
DARK
Natalie Grant lijkt het goed voor elkaar te hebben. Al op jonge leeftijd is ze een succesvolle psychotherapeute.
Tot ze haar ogen opent in een ravenzwarte duisternis.
Het lijkt erop dat ze in een onderaards gat is. Haar rechterbeen voelt als gebroken en ze heeft een bloedende hoofdwond. Het ergste van alles: ze kan zich met geen mogelijkheid herinneren wat haar is overkomen. Door de stilte bekruipt haar de vrees dat ze levend begraven is.
Dan roert zich toch iets in de donkerte. Het wekt haar diepste angst. Een verschrikking, van lang geleden, die ze dacht eindelijk achter zich gelaten te hebben.
Maar niets is minder waar.
En dit keer kan ze er niet van vluchten.
Expected later in 2021: a new thriller by Jack Lance
DARK
Natalie Grant seems to be doing just fine. Even at a young age, she's a successful psychotherapist.
Until she opens her eyes in a pitch black darkness.
It seems she is in an underground hole. Her right leg feels like it's broken and she has a bleeding head wound. Worst of all, she can't remember anything about what happened to her. The silence makes her fear that she has been buried alive.
Then something stirs in the darkness. It awakens her deepest fear. A horror, from long ago, that she thought she had finally put behind her.
But nothing is further from the truth.
And this time she cannot run away from it.