Welkom | Welcome
De nieuwste Jack Lance is nu exclusief te koop bij SuspenseShop!
Zes situaties. Zes verlangens. Zes deals.
Op één dag.
Black Friday.
De mooie Romy verlangt naar de liefde van een succesvolle auteur van horrorverhalen.
Een huis dat van zijn eigenaar houdt weigert van hem te scheiden.
Een vrouw gaat over lijken voor de schoenen die ze wil hebben.
Een wanbetaler dacht dat hij alle deurwaarders wel had meegemaakt, maar hij vergist zich.
Een tandarts trekt meer dan alleen kiezen bij een patiënt waar hij iets van wil.
Op Black Friday keren soms de spoken van vorige Black Fridays terug.
Exclusief te koop bij SuspenseShop.com.

Nu voor 17,50 of met kortingscode JL1BF voor maar 10 euro (+3,95 verzenden). Ga naar SuspenseShop.com
Koop je Black Friday samen met Verhaaltjes voor het Slapengaan, gebruik dan kortingscode JL1BF1VV en betaal maar 17,50 (+3,95 verzendkosten) Ga naar SuspenseShop.com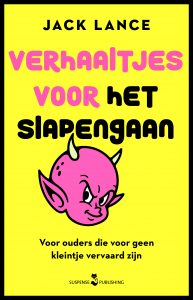 Verhaaltjes voor het Slapengaan is een collectie met zes verhalen over kinderen, opvoeding en ouderschap, vanzelfsprekend overgoten met een typisch 'Jack Lance sausje': horror met een knipoog.
Op SuspenseShop kun je ook het boek al inzien en een stukje lezen!
Als de kinderen op zolder spelen vinden ze een oude schoolbel, die vooral de interesse wekt van hun vader. Elke keer als hij de bel luidt, gebeuren er verschrikkelijke dingen…
Baby Flora, van zes maanden, is geen gewone baby. Alleen haar vader weet dat. Hij heeft… dingen gezien bij Flora. Dingen die niet kloppen. Niemand gelooft hem, want hij heeft het altijd over complotten en 'alternatieve waarheden'. Flora is toch gewoon een wolk van een baby? Of niet?
Een vader neemt een knuffel mee voor zijn kinderen. Maar de knuffel blijkt een hekel te hebben aan kinderen en steekt dat niet onder stoelen of banken.
De kinderen houden van verhaaltjes. Meestal leest vader voor. Maar soms verschijnt 'opa Richie', uit een duistere nis in hun slaapkamer. En de verhaaltjes die hij voorleest zijn gruwelijk.
Een jongetje wordt vijf jaar en zijn ouders willen gezellig zijn verjaardag vieren. Maar de jongen wil er niets van weten. Dan blijkt waarom…
Benji en Belle verzamelen appels die in de fruitgaard van de bomen zijn gevallen. Er liggen daar echter niet alleen appels.
Zes verhalen voor het slapengaan… maar niet voor kinderen.
Wel voor papa's en mama's die voor geen kleintje vervaard zijn!
Wordt verwacht later in 2021: een nieuwe thriller van Jack Lance
DARK
Natalie Grant lijkt het goed voor elkaar te hebben. Al op jonge leeftijd is ze een succesvolle psychotherapeute.
Tot ze haar ogen opent in een ravenzwarte duisternis.
Het lijkt erop dat ze in een onderaards gat is. Haar rechterbeen voelt als gebroken en ze heeft een bloedende hoofdwond. Het ergste van alles: ze kan zich met geen mogelijkheid herinneren wat haar is overkomen. Door de stilte bekruipt haar de vrees dat ze levend begraven is.
Dan roert zich toch iets in de donkerte. Het wekt haar diepste angst. Een verschrikking, van lang geleden, die ze dacht eindelijk achter zich gelaten te hebben.
Maar niets is minder waar.
En dit keer kan ze er niet van vluchten.
Expected later in 2021: a new thriller by Jack Lance
DARK
Natalie Grant seems to be doing just fine. Even at a young age, she's a successful psychotherapist.
Until she opens her eyes in a pitch black darkness.
It seems she is in an underground hole. Her right leg feels like it's broken and she has a bleeding head wound. Worst of all, she can't remember anything about what happened to her. The silence makes her fear that she has been buried alive.
Then something stirs in the darkness. It awakens her deepest fear. A horror, from long ago, that she thought she had finally put behind her.
But nothing is further from the truth.
And this time she cannot run away from it.